Welcome
There will always be lift applications where a reduced pit or headroom means a conventional lift is unsuitable. It could leave a lift professional believing that no suitable lift is available for their client. Furthermore, this issue occurs more regularly as clients look to modernise old buildings for modern living and working. In recent years, we installed a disabled access Passenger Lift at Leeds Grand Theatre, built in 1878, when disabled access was not even a consideration. We have also provided a Passenger Lift with the Nando's Restaurant at The O2 as part of the Millennium Dome redevelopment, as the Dome's original concrete base did not allow for the excavation of a pit.
Whatever the intended application or lift type, these issues exist. So, we have written this article to guide you through each situation. We will give you a better understanding of the available products and how they mitigate the constraints.
---
How can I overcome reduced pit and headroom for a Service Lift?
Two types of lifts fall within the Service Lift category: dumbwaiters and trolley lifts. Although numerous differences exist, the essential difference is how you load items into them. A dumbwaiter loads at waist level, while a trolley lift loads at floor level.
With a waist-level lift, the space between the floor and the loading height provides a void for components to sit. Therefore, dumbwaiters have no pit. The situation is slightly different for a floor-level loading trolley lift as this space doesn't exist. Therefore, a pit is required. Thankfully, this requirement is minimal, with most trolley lifts needing just 260mm of pit space. With a little extra engineering, we often reduce this requirement even further to 185mm.
We commonly encounter sites with low headroom space issues, where an existing structural element means the standard headroom requirement is unavailable. The problem results in the lift motor not fitting within the available space. The solution is to move the lift motor to either the bottom or side of the lift structure. However, this does mean there needs to be space here too! Which isn't always the case.
Our ability to move the lift motor to the bottom of the lift structure is central to one of our most unique dumbwaiter models, the Under-Bar. The headroom requirements of this lift are so low that the lift car will fit under a bar or counter worktop. It was developed as a one-off project where champagne bottles needed to be transported to the top deck of a luxury yacht. These days the Under-Bar operates across several restaurants and bars, including The Delauney, Covent Garden and INO Restaurant, Soho.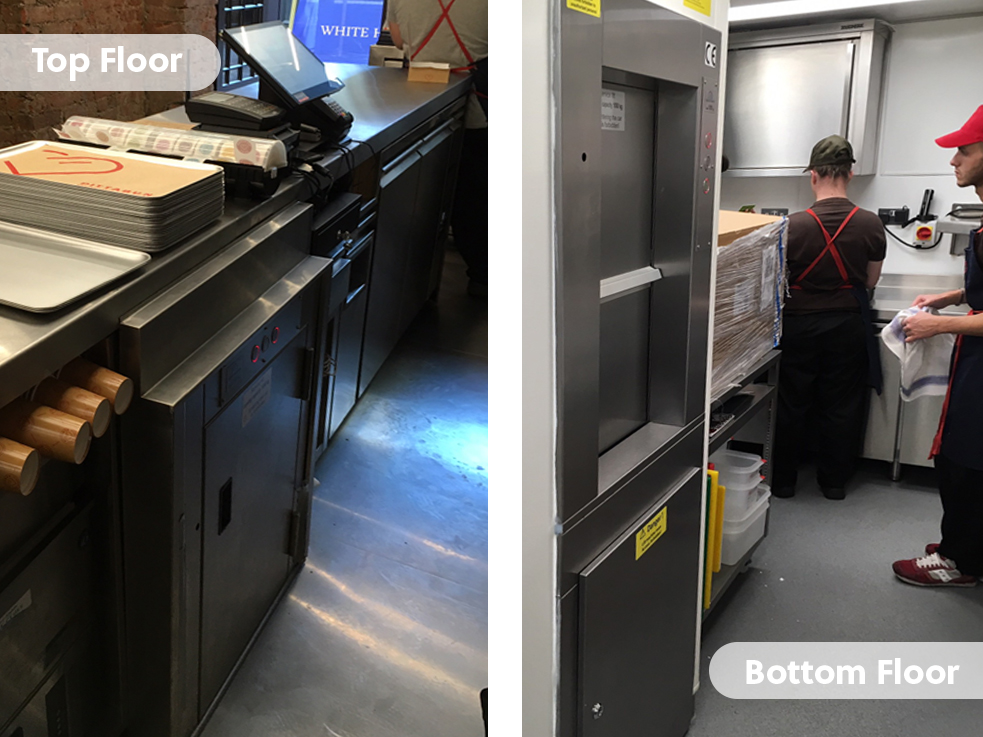 How can I overcome reduced pit and headroom for a Goods Lift?
Goods Lifts are the real workhorses of our lift range. They regularly move bulky and heavy items up to 2,000kg between floors. Therefore, they are robust in their construction to absorb these heavy demands.
These requirements and applications make it difficult for standard goods lifts to be suitable where pit and headroom restrictions occur. However, specially engineered goods lifts can easily mitigate these problems.
We have a Goods-Passenger Lift, which provides the benefit of allowing passengers to accompany the goods, but it is also capable of carrying up to 1,600kg with a pit of 150mm and headroom of 2,500mm. The lift complies with the EC Standard EN81-21, which allows installation in new and existing buildings. However, these standards require the building owner to obtain a derogation by prior approval from the UK Government's Department for Business, Energy and Industrial Strategy (BEIS). This approval is easy to obtain for an existing building but extremely hard for a new one. However, by reducing the speed to 0.15m/s, our Machinery Directive-compliant version of the same lift is suitable in any building (new or existing) without derogation.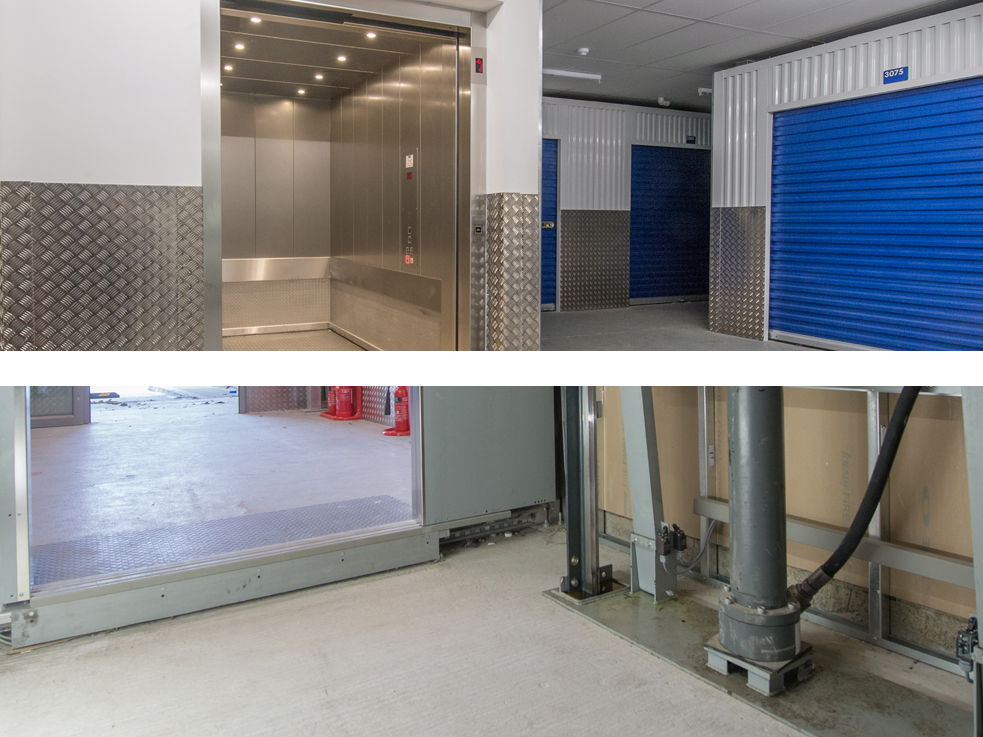 How can I overcome reduced pit and headroom for a Passenger Lift?
We have become experts in Passenger Lift solutions when a shallow pit or low headroom creates a problem.
Six years ago, we were involved in a project at the European headquarters of Bloomberg Media company in London. Many Roman artefacts were discovered during construction, including 405 wooden tablets now referred to as the Bloomberg Tablets. These discoveries meant a conventional passenger lift could not be used within the building because the required lift pits were deemed incompatible with the need for historic preservation.
With our knowledge and expertise, we were able to source a solution for this particular issue. We have a Passenger Lift capable of transporting 19 people with only a 150mm pit. The lift also complies with EN81-21 Lifts Directive or Machine Directive 2006/42/EC.
From this single project, we have extended our range of shallow pit and low-headroom Passenger Lifts to four distinct solutions, allowing us to provide a tailored solution, whatever your dimensional constraints.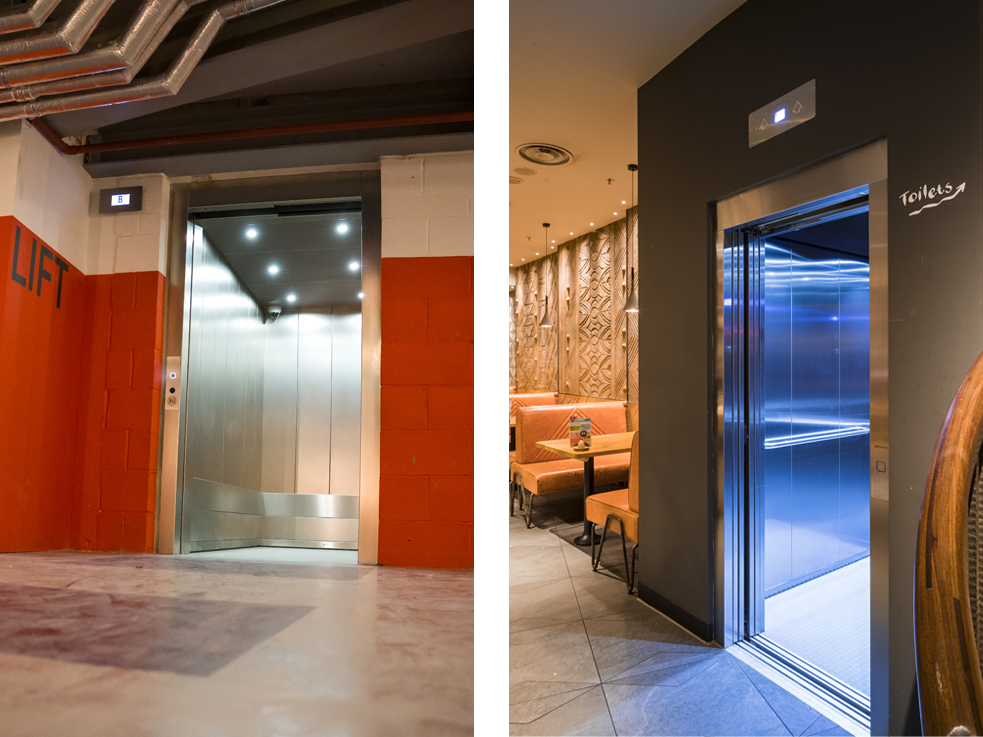 ---
Regardless of the lift type or intended application, options are available to overcome space restrictions. By understanding the available products and their capabilities, lift professionals can confidently find suitable solutions for their clients. Together, we enable accessibility and mobility in even the most challenging spaces.
Harness specialist new lift knowledge.
Thank you for taking the time to read our blog article. We hope you are better aware of the solutions available when you have a reduced pit and headroom.
If you're still seeking additional information, we encourage you to reach out – harness our specialist new lift knowledge and contact a member of our New Lifts and Specialist Lifts and Trade Services teams, who are more than happy to assist by completing our contact form!
Contact Form