Welcome to our blog
As a lift professional looking for a dumbwaiter to meet your client's needs, our guide will provide an overview of the available options. From size to capacity and more, our guide to dumbwaiter service lifts will take you through the options to help you tailor the dumbwaiter for your client.
Dumbwaiter Specification
Dumbwaiter service lifts are used in countless environments, but they all transport items from one floor to another. However, it is essential to remember that both the environment and the application are the factors which will dictate the dumbwaiter's specification.
Let's look at the most common elements of the specification and provide a guide to dumbwaiter service lifts.
Capacity
The most common dumbwaiter capacities are 50kg or 100kg, representing 71% of all the dumbwaiters we have ever supplied. However, we have dumbwaiters with a load capacity as low as 5kg and as high as 300kg.
These less common capacities tend to be for specialist applications. For example, our Document Lift, with a capacity of 5kg, transports paper files, folders and other light items. Its 540mm x 420mm footprint will fit in areas too small for a standard dumbwaiter.
Loading
When it comes to loading items into a dumbwaiter, there are two options available.
The most common loading configuration is at waist level. This loading type removes the need for the user to bend over to load items into the lift. This configuration is very convenient and often found within restaurants due to the regular need to transport food.
The alternative to waist-level loading is floor-level loading. This configuration allows the user to manoeuvre small trollies and goods directly into the lift from the floor.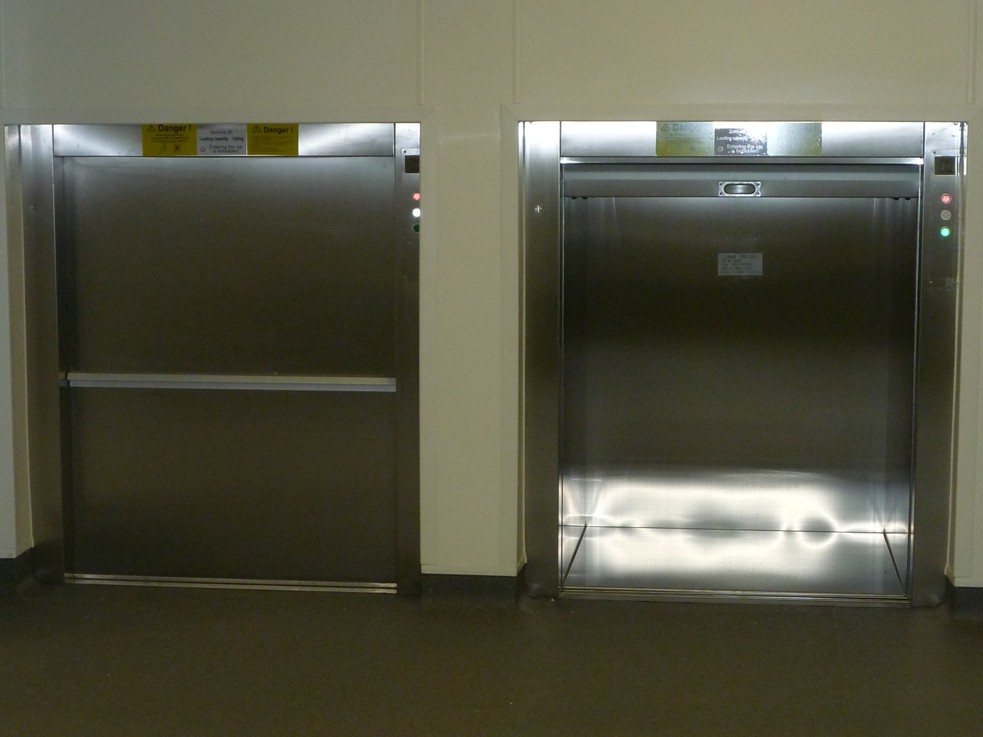 Car Entrance Protection
Car entrance protection ensures that items do not fall from the lift car and cause catastrophic damage to the item and the lift itself. There are two options available depending on the type of contents in transit.
Bi-Parting Doors
Roller Shutters
Car entrance bi-parting doors offer the most significant level of protection due to their robust construction. These doors are in addition to the landing bi-parting doors on most landing entrances.
The alternative solution is a roller shutter, which is lighter and cheaper, however, the trade-off is that they are less robust.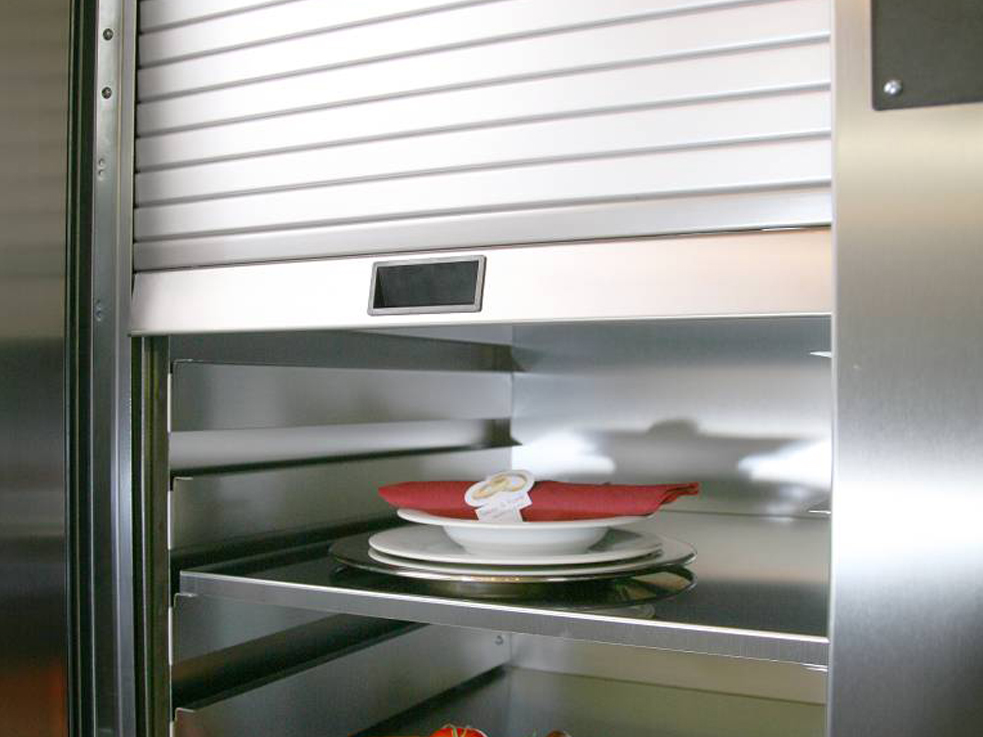 Headroom
The available headroom is an area that people can often overlook. However, restrictions caused by existing structures can cause severe problems.
The problem results in the lift motor not fitting within the available space. The solution is to move the lift motor to either the bottom or side of the lift structure. However, this does mean there needs to be space here, too, which isn't always the case.
Our ability to move the lift motor to the bottom of the lift structure is central to one of our most unique dumbwaiter models, the Under-Bar. The headroom requirements of this lift are so low that the lift car will fit under a bar or counter worktop. The lift's development began as a one-off project to transport champagne bottles to the top deck of a luxury yacht. These days, the Under-Bar operates across several restaurants and bars, including The Delauney, Covent Garden and INO Restaurant, Soho.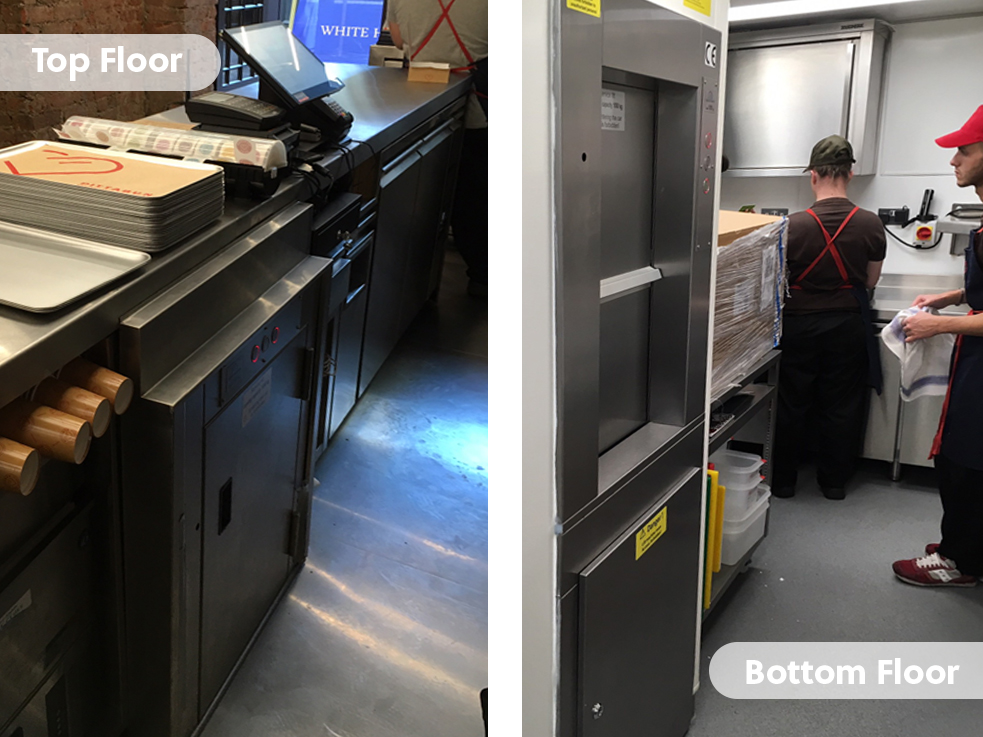 Car Size
Our dumbwaiter service lifts are available in a range of car sizes. For instance, our 5kg Document Lift benefits from car dimensions as little as 250mm (w) x 310mm (d) x 500mm (h) as it is precisely engineered to carry bulky amounts of paperwork. Whereas our most common range of dumbwaiters have car dimensions starting at 400mm (w) x 400mm (d) x 600mm (h). With the flexibility of their design, these dimensions can be easily increased in increments of 50mm (width and depth) and 100mm (height).
Our lift's design flexibility can also be used to the specific millimetre. So, our range could provide the ideal solution if you have a particular space requiring a lift.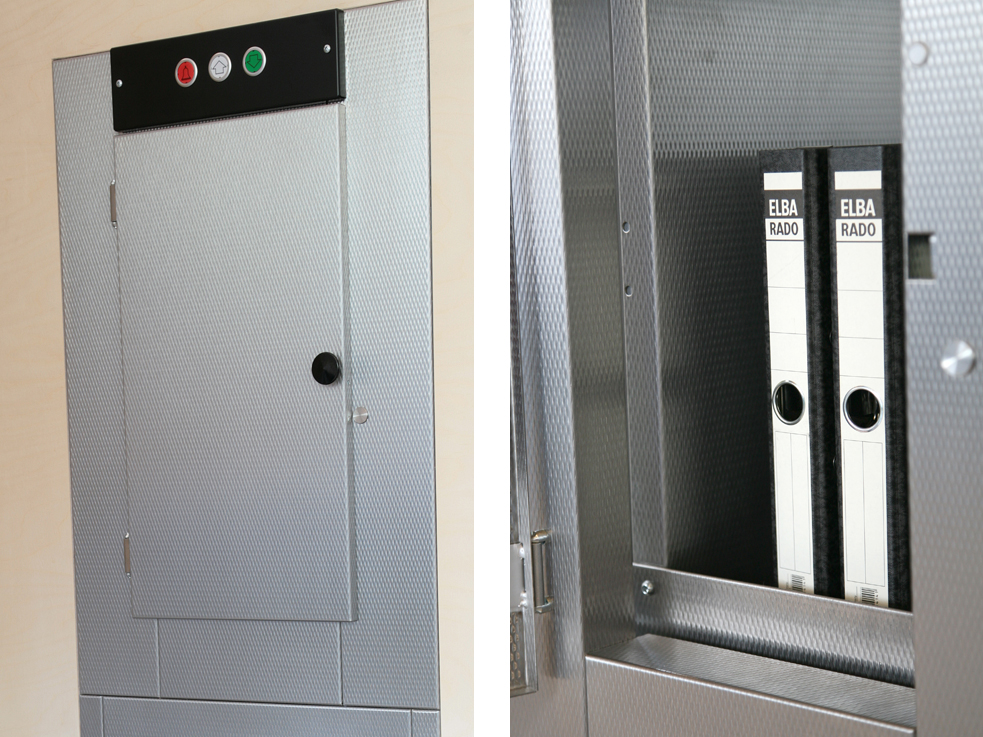 Finishes
The most common finish for a dumbwaiter service lift is stainless steel. This is because a large proportion of dumbwaiters transport food. Stainless steel is resistant to corrosion, and ease of cleaning makes stainless steel both durable and hygienic, two valuable properties in food service preparation.
Our dumbwaiters are also available in a galvanised steel finish when the hygienic properties of stainless steel are not required. This finish is cheaper and is more common when the lift is back-of-house to transport boxes and other items not for human consumption.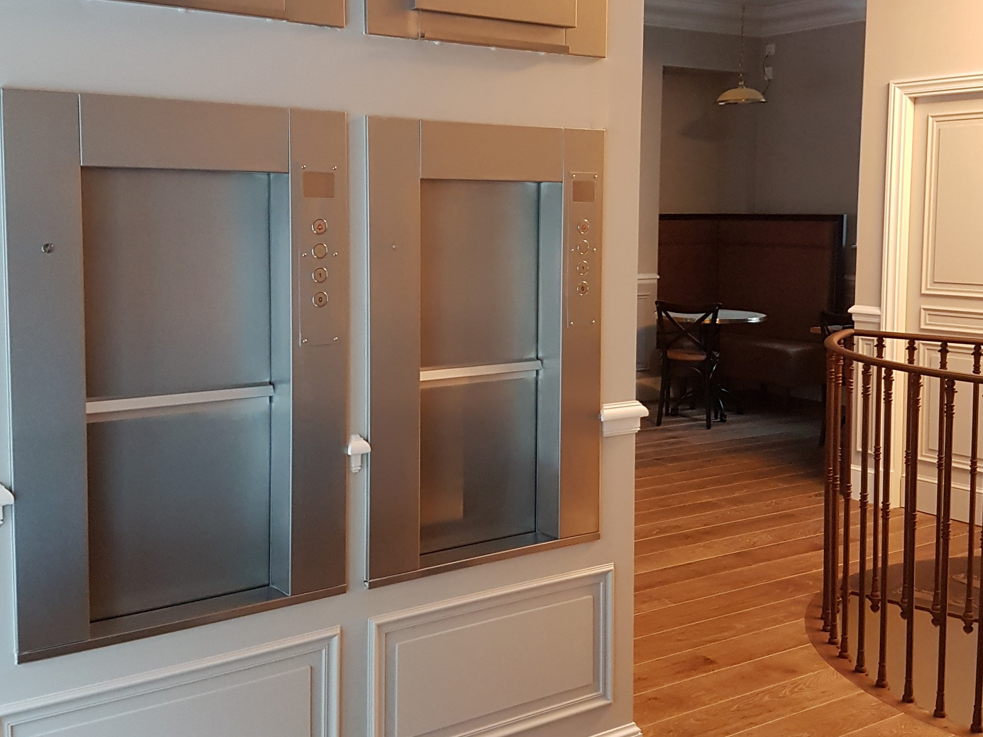 ---
So, there you have it – a detailed exploration of the key specifications to remember when selecting a dumbwaiter. Understanding your client's requirements is paramount whether you're working with a restaurant, hotel, or any other industry. With options ranging from capacity and loading methods to car entrance protection and finishes, you now know how to tailor the ideal dumbwaiter solution.
Remember, the devil is in the details, and our dumbwaiters can be customised to the millimetre to fit even the most unique spaces. Whether transporting delicate champagne bottles to the upper deck of a luxury yacht or simply moving paperwork efficiently, there's a dumbwaiter to meet your needs.
Regarding finishes, stainless steel provides durability and hygiene for food service, while galvanised steel is the practical choice for non-food items. So, the next time you're presented with a client's dumbwaiter request, you can confidently guide them towards the perfect choice.
Our guide to dumbwaiter service lifts
If you found our guide to dumbwaiter service lifts helpful, share it with your colleagues and stay tuned for more insights and tips from the world of lifts and elevators. Happy lifting!
---
Request a brochure and get in touch.
If you want assistance with a service or goods lift on your next project, our Service and Goods Lift brochure provides an excellent overview of our range of models.
The right lift makes all the difference. Request our brochure, and let us help you lift specification requirements.
Contact Form