Welcome
As an architect, you design functional and aesthetically pleasing buildings. One of the most critical aspects of building design is the specification of lifts. In particular, service and goods lifts are essential for many commercial and residential buildings. However, specifying the correct lift type can be complex, and architects often require assistance. We are here to provide lift specification advice for architects about service and goods lifts.
Understanding Service Lifts and Goods Lifts
What are Service and Goods Lifts?
A "service lift" regularly transports heavy or oversized objects that may be too difficult or dangerous to lift manually. With capacities of 5kg to 300kg, they are commonly known as "dumbwaiters". However, these lifts are also called food or kitchen lifts because they are predominantly used for the transportation of food. Because of this, they are usually found in commercial bars, restaurants, and residential kitchens. For the highest level of quality and safety, most service lifts will comply with European Standard EN81-3, the safety rules for the construction and installation of electric and hydraulic service lifts.
A "Goods lift" is a large, more powerful, robust lift with capacities of up to 2,000kg. They transport multiple large and heavy items and are often found, 'back of house', within warehouses and stockrooms. Safety standards dictate that goods lifts must comply with the Machinery Directive as an absolute minimum. However, lifts that comply with the European Standard EN81-31 also have components that protect against free-fall and uncontrolled movement and therefore provide greater safety.
How do they differ from Passenger Lifts?
Passenger lifts, as the name suggests, transport people between floors. Services and goods lifts do not and should never carry passengers. The exception to this rule is a Goods Lift with Attendant model, which allows one trained person to travel with the goods in transit. As a result, the lift car comes with lift controls which require constant active pressure for operation. Introducing an attendant also means this type of goods lift cannot comply with European Standard EN81-31 due to it being a purely "goods only" set of standards. In this situation, compliance reverts to the Machinery Directive, even though the lift still comes with the components which protect against free-fall and uncontrolled movement.
What are their Applications?
The service and goods lift applications are vast across residential and commercial environments. Service lifts often transport freshly prepared food within a kitchen environment but are not limited to catering. Our service lifts transport jewellery for Cartier, JD Sports trainers, and Health Services Laboratories medical samples, to name but a few. Equally, our goods lifts are found in thousands of commercial warehouses transporting stock and other goods. However, we also have many bespoke applications, including transporting 1,000kg of raw chickens within a poultry factory to lighting and sound equipment backstage at the ABBA Voyage experience.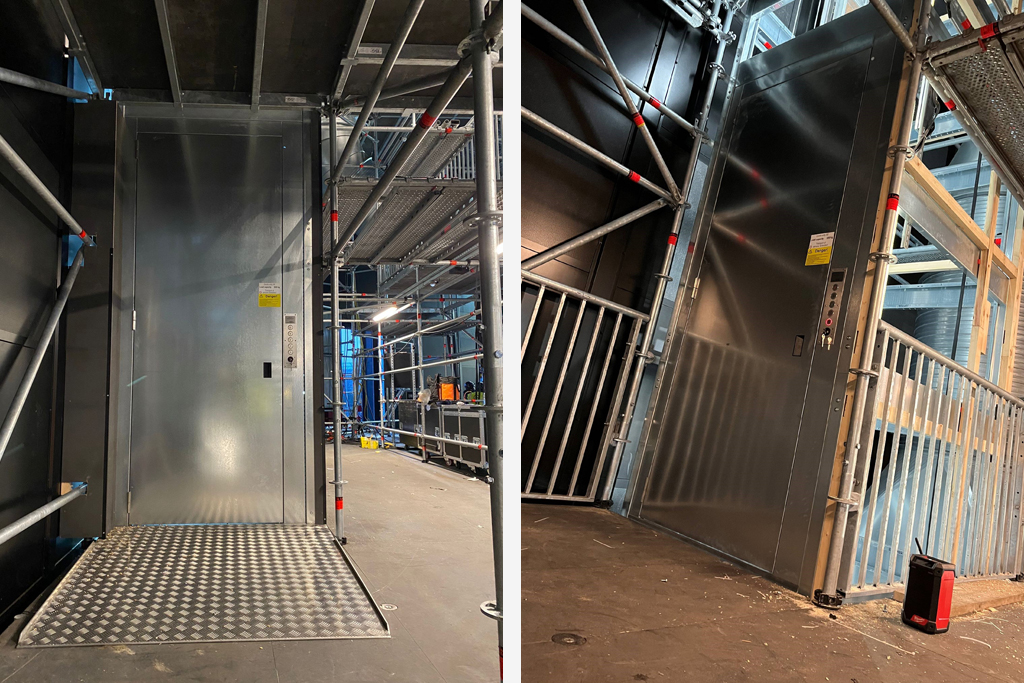 The Importance of Lift Specification for Architects
Why are Service and Goods Lift Specification Important for Architects?
Service and goods lifts are crucial in many residential and commercial complexes. Lift specification is essential to identify multiple factors, including application, load type, usage patterns, capacity, lift placement, car configuration, and other requirements. Identifying these elements early ensures that the tender process runs smoothly. It also provides the opportunity to mitigate any issues that may arise.
What are the Consequences of Poor Lift Specification?
If the specifications for a lift are not accurate, it can lead to the installation of the wrong type of lift and delays in building construction. These mistakes can have significant and expensive consequences that may be difficult to resolve. The wrong lift may not be suitable for the intended application and, therefore, can not be used. Equally, over-specifying a lift can be costly, with money going to waste for features or functions that are not required.
---
Request a brochure and get in touch.
If you are an architect looking for assistance with lift specifications for a service or goods lift on your next project, our Service and Goods Lift brochure provides a great overview of our range of models.
The right lift makes all the difference. Request our brochure, and let us help you with your lift specification requirements.